Go back to

Blog

page.
Celebrating Growth in Tech-Enabled Manufacturing in Polk County
Tech-enabled manufacturing, sometimes known as advanced or agile manufacturing, continues to grow roots in Polk County as companies locate and expand here, and county leaders work to attract more.
It's in the spotlight now. The Manufacturing Institute, an organization that works to develop technologies and individuals for the manufacturing industry, started National Manufacturing Week, which begins on the first Friday in October every year, to highlight the industry. It's a great time for Polk County to remind everyone of some of the tech-enabled manufacturers at work here – including Florida Can Manufacturing, Coca-Cola, Peace River Citrus, Nucor Steel Florida, The Mosaic Co. and ArrMaz – and the future of the industry here.
"Florida Can has created good-paying jobs for Winter Haven and Polk County," said Winter Haven City Manager Mike Herr. "The product they manufacture is very safe for our ecosystem and adds to a sustainable economy for our city's economic future. Additionally, they are outstanding business people to work with."
Florida Can Manufacturing opened its 300,000-square-foot advanced manufacturing plant in Winter Haven, bringing with it an economic impact of more than $120 million and 160 new jobs. It has plans to build out in three phases, potentially ending with 800,000-square-feet of advanced manufacturing space and 500 new jobs – many of which will pay more than 115% of the average annual wage in Polk County.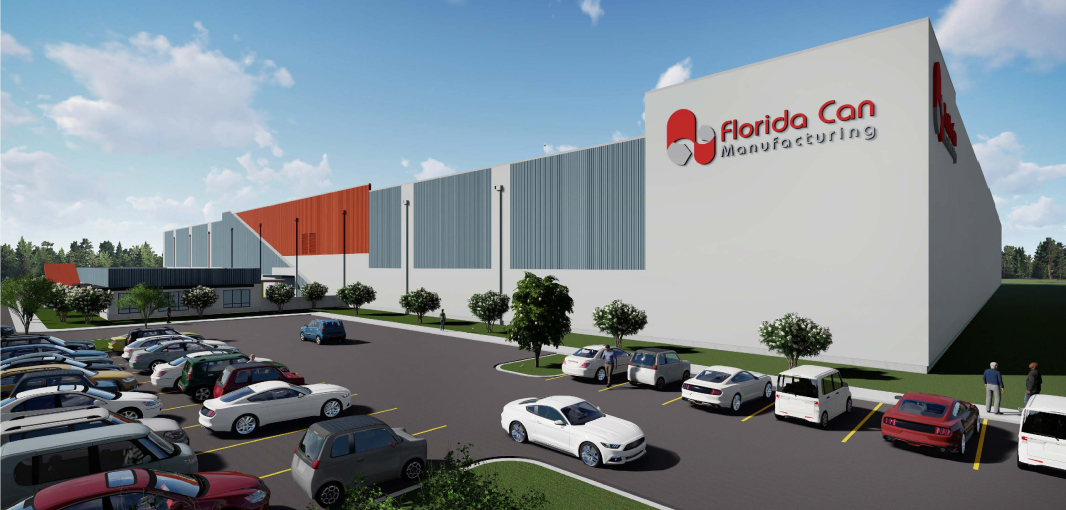 Manufacturing Employement
J. Michael Weber, Dean and Professor of Marketing at the Florida Southern College Barney Barnett School of Business & Free Enterprise, said increasing the average wage in Polk County is one reason to welcome tech-enabled manufacturing. "Manufacturing is important for Polk County because average wages are much higher than those of the service industries and agriculture sector."
In Polk County, he said, more than 18,000 people are employed in the manufacturing industry; their wages average $62,935. "Manufacturing contributed the largest portion of GDP (gross domestic product) in Polk County, at $3,065 million, which is 12.8% of total GDP."
The total GDP for the state was slightly more than $1 trillion in 2021; manufacturing accounted for about 5.3%, Weber said, showing that the industry is a critical component in Polk and the state.
Winter Haven's ILC Attracting Attention
After Florida Can announced its plans to build in the Intermodal Logistics Center, Coca-Cola followed. The Winter Haven Economic Development Council and the city of Winter Haven have been instrumental in attracting companies to that area, said Eric Labbe, director of the city's Department of Economic Opportunity & Community Investment.
"These two companies invested approximately $160 million in 2020-21, which helped catalyze an additional $100 million in more recent investment and will most certainly lead to future investments of similar or even larger scale," Labbe said.
In addition, the city sold Florida Can the land it's now on and will benefit from property tax revenue in the future, he said.
Attracting tech-enabled manufacturing is important to the future growth of Polk County, Labbe said. "Diversifying the local economy and creating new good-paying jobs for our citizenry is a long-term goal of the city of Winter Haven," and the rest of the county. "This creates community resiliency … promotes a higher quality of life for our citizens."
Colleges and Universities Prepare Graduates For Tech-Enabled Jobs
Florida Polytechnic University, the state's only university devoted solely to STEM degrees (science, technology, math and science), plays a key role in the success of advanced manufacturing in Polk County, said Matt Bohm, assistant professor of mechanical engineering.
"Since we are a STEM-only focused university, we naturally produce students with the skills necessary to take part in the advanced manufacturing ecosystem, from modeling and simulation to robotics and automation," he said. "Recently, we became a member of the ARM (Advanced Robotics for Manufacturing) Institute and anticipate growing our partnership to include more meaningful hands-on applied research projects for our faculty, students and local industry partners."
Polk State College also prepares students for careers in manufacturing. It offers an associate degree in Engineering Technology with specializations in advanced manufacturing and mechanical design and fabrication, and a Support Specialist certificate.
St.LouisFed.org says tech-enabled manufacturing "serves as a critical source of growth as these products drive productivity gains throughout the economy. In some sense, all manufacturing is 'advanced' because it requires specific knowledge and use of modern technology."
The U.S. Census Bureau said seasonally adjusted after-tax profits and sales for U.S. manufacturing companies and sales from the second quarter of 2022 totaled $275 billion, up $9.2 billion from the first quarter of 2022 and $35.2 billion from the second quarter of 2021.
The Future of Manufacturing
Justin Heacock, director of the Center for Free Enterprise & Entrepreneurship at Florida Southern College, said every industry is becoming more tech-enabled.
"One of the main advances in tech-enabled manufacturing over the last year can be seen with the integration of the human and technological elements of manufacturing," Heacock said. "As new assistive innovations come out, we are seeing the work of humans become smarter and more efficient with products like industrial wearables."
The company Realwear, a global leader in assisted reality head-mounted display for frontline workers, has already shifted to a "software model where the main value becomes how artificial technology assists workers in decision-making versus simply using and selling the wearables directly. This means that this industry is getting to the point where adoption of the wearables is significant enough that they can focus on higher levels of efficiencies for frontlines by building out the artificial technology to assist in day-to-day decision-making for workers. This is going to change how work is done in manufacturing as frontline workers will now have to be partial data analysts to do their job efficiently."
Tech-Enabled Manufacturing Future in Polk County
FSC's Weber said manufacturing will continue to be a very important sector for Polk County, and it is projected to grow and become a larger percentage of the overall county GDP.
"Employment is forecasted to grow by almost 2% annually for the next 10 years, while the percentage of GDP is expected to grow to more than 15% for manufacturing during that same time period," Weber said. "In total, manufacturing is and will be a high-growth industry with above-average salaries that will require graduates to have analytical, critical-thinking, decision-making and communication skills. Florida Southern College is well positioned to deliver high-quality graduates, with these skills, for many years to come."
Bohm said the Innovation District surrounding Florida Poly "is vitally important to Polk County as it provides a hub for the development of technology, products and services. Hopefully, companies that take part in the Innovation District also recognize that with the STEM talent being produced in Polk, it makes sense for them to manufacture their products here as well. One of the main reasons our Florida Poly exists is to help expand the state's economy from primarily agriculture and tourism to technology and manufacturing. As a large county in Central Florida, Polk has the opportunity to lead the state in manufacturing, logistics and distribution."
In addition, annoucements such as the new Assure Infusions pharmaceutical manufacturing facility in Bartow continuing broadening Polk's growing share of tech-enabled manufacturing. This state-of-the-art, fully automated medical manufacturing facility will be a highly technical showcase of advanced manufacturing using advanced robotics.