Go back to

Blog

page.
Lakeland Regional Health Breaking Ground on New Facility
Florida's fifth-largest hospital is aiming to close the gap in distance and services provided to residents in northwest Polk.
Lakeland Regional is beginning construction on a new three-story, 76,000-square-foot medical facility. The 20-acre tract sits at the northwest corner of I-4 and Kathleen Road in Lakeland. According to Patrick Phillips, senior VP of business development, the site is being developed in multiple phases.
"At Lakeland Regional Health, people are at the heart of everything we do," Phillips said. "This is reflected in our promise statement and informs everything we do as a health system. Through our research and analyses, we learned this growing part of our community has major shortages in primary care access. The same can be said about specialty care in the North Lakeland market."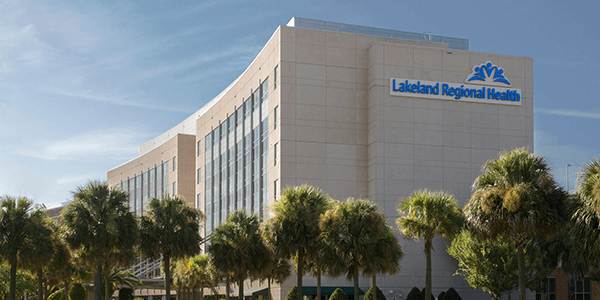 County Growth Meets Physician Shortage
Phillips said the hospital's primary goal is always to improve access to care. With a growing northwest region and increasing traffic along major roads, LRH felt it important to provide services more directly, he said.
Within the next 12 years, the country will face a shortage of physicians. That number ranges from 37,800 to 124,000 physicians, according to The Complexities of Physician Supply and Demand: Projections From 2019 to 2034, a report released by the Association of American Medical Colleges (AAMC). Specific shortages are projected:
Between 17,800 and 48,000 primary care physicians.
Between 21,000 and 77,100 non-primary care physicians.
"Because it can take up to a decade to properly educate and train a physician, we need to take action now to ensure we have enough physicians to meet the needs of tomorrow," American Medical Association President Gerald Harmon wrote in a recent Leadership Viewpoints column. "The health of our nation depends on it."
According to LRH's latest Community Needs Assessment, Polk County has one primary care doctor for every 2,080 residents, falling far short of the 1,380 doctors per resident in the state and 1,210 in neighboring Hillsborough County.
Emergency Rooms
People are sometimes going to emergency rooms to get treatment for rather minor illnesses or injuries. However, increasing the number of primary care physicians in Polk County will help reduce the dependence on emergency rooms.
"Hospitals nationwide are challenged, and often burdened, by the overwhelming amount of unnecessary emergency room visits. Our community is no different. These visits are due largely to the limited number of alternative access points, such as primary care access. Our focus is delivering the right care, at the right setting, at the right time," Phillips said. "By providing greater access to primary care, we can help shift services to the appropriate care setting. More effectively catching and treating health issues before they become true emergencies."
Lakeland Regional Health Medical Center's Emergency Department is the busiest single-site ER in the nation. The Level II Trauma Center is the only designated trauma center for Polk, Hardee and Highlands counties. It also accepts patients from other nearby counties like Pasco and Hillsborough.
Specialty Care at Lakeland Regional
As part of this project, LRH will devote 20,000 square feet to specialty areas.
"While the specific details are still in planning stages, these may include care providers in gastroenterology, neurology, cardiology and others," Phillips said. "We also have an additional 20,000 square feet of space we plan to build out in the future for specialty care medical offices. With lots of room on this property, we intend to grow specialty care to support our community's needs."
Educating Future Doctors
The $65 million project will also be the education center for the health company's new Graduate Medical Education (GME) program, which is scheduled to begin on July 1, 2023. The GME program is expected to help alleviate the shortage of doctors in Polk County; LRH expects 190 residents once the program is at full capacity.
"Going back to our promise statement, we strive to continually improve lives by promoting wellness, education and discovery. While the Lakeland Regional Health medical center will be our primary location for our GME program, our new facility will be an excellent site for education," Phillips said. "With such limited access to care in this area, we have a tremendous opportunity to not only improve care, but to educate our future doctors. As this facility will be the main location for our Family Medicine Residency program, our hope is that the residents who complete their training will have enjoyed our community so much that they decide to stay and work here, and perhaps lay down family roots of their own."

Contractors
PurePM is managing the project which also includes:
FCA Lunz, a partnership that includes The Lunz Group of Lakeland, Polk County's largest architectural firm at about 50 members.
Chastain Skillman, a Lakeland firm that handles civil engineering, water/wastewater engineering and land surveying.
TLC Engineering Solutions.
Creative Contractors.
"First and foremost, our goal is to collaborate with quality local partners that align with our values," Phillips said. "After careful consideration, we chose partners that we felt would provide the best end product, at the best value. This required us to do some things differently, like ask two architectural firms to joint venture together. The great thing about our partners is they all listen to our needs and develop personalized solutions to make our project a success. We can't say enough great things about these groups."
Location, Location, Location
LRH has increased the number of ambulatory/outpatient sites along with adding to its main Medical Center on Lakeland Hills Boulevard.
"Most recently, we have completed larger-scale projects such as the Carol Jenkins Barnett Pavilion for Women and Children and the much-anticipated Harrell Family Center for Behavioral Health, set to open in summer 2022," Phillips said. "We also have several ambulatory and outpatient sites around Polk County and now we have a presence in Plant City. Once this newest project is complete, we will have nearly 20 facilities around Polk and Hillsborough County."
According to its website, LRH is also considering additional locations in south Lakeland and other areas.
The health system currently employs more than 6,500 people. When the new facility is open, about 225 positions will be based there.
"Given the vast population growth in our area there is a huge need for increased access to high-quality health care," said Danielle Drummond, president and CEO of Lakeland Regional Health. "We are not only committed to becoming a world-class academic medical center through our GME program but we are dedicated to sustained growth throughout our county and beyond to meet the health care needs of our community."
Lakeland Regional Health
Starting in 1916 as Morrell Hospital, the facility began with 65 beds and 24 employees. Today, Lakeland Regional Health is the fifth largest hospital in Florida with 864 beds and is the second largest private employer in Polk County with over 5,400 employees and a medical staff of more than 550. It is the only hospital in Polk County to offer three hybrid operating rooms and a hybrid catheterization lab.