Go back to

Blog

page.
Newly Named Winter Haven City Manager has His Heart in His City, Helping Others
T. Michael Stavres has been successful in Lakeland and Winter Haven, but the latter is where he's made his mark – and his home. 
Stavres was born outside Pittsburg but moved to Winter Haven when he was 8. Only for a few short stints did he live outside the city.
He joined the City of Lakeland as its recreation supervisor in 1997, then moved on to become director of Parks & Recreation in Temple Terrace before returning to Polk County in 2001 to become Winter Haven's director of Leisure Services. Five years later he became director of Community Services, then assistant city manager, then deputy city manager before being named city manager in December 2022 – without a national search, which is common.
"In the 10 years I have been on the commission the easiest decision I have ever had to make was making T. Michael our city manager," said Mayor Brad Dantzler. "There was absolutely no learning curve; he hit the ground running and is doing a fantastic job. His institutional knowledge, compassion and love for the city is plain for all to see."
Education
He has an associate's degree from Polk State College, and a bachelor's degree in Leisure Services and Studies and a master's in Recreation and Leisure Administration from Florida State University. He's working on a master's degree in Public Administration from the University of South Florida.
He said he never wants to stop learning. "I say, 'You're either green and growing or you're dying on the vine.' Don't settle for what you know today; always try to build on that. I'm not formally trained in historical theories and principles of Public Administration although I've worked in the field for a number of years. In my mind I've been successful, but how much more could you accomplish if you have that foundational knowledge with it? I think it can help me do my job better and be more effective as a city manager and make me more effective for the people I serve internally and externally."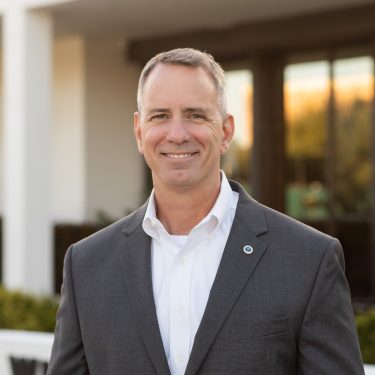 Community Involvement
He's ingrained in the community, serving as a trustee for All Saints' Academy, where his daughter goes to school, and an elder at First Presbyterian Church. He's also involved with Polk State College via its alumni association board.
And, he's a musician, who, along with his partner, uses that platform to raise money for local non-profits. "We pick a different one every year and donate all the tips that we earn when we're out playing music. We've been doing that for 15 years. We estimate we've given north of $80,000 to charities."
Stavres answered a number of questions from the Central Florida Development Council. Read on to learn more.

Question: As a new city manager, what is your No. 1 priority for the city?
Stavres: We have this mantra in Winter Haven that we dubbed in 2021: Exceptionally Local. We never lose that local feel. You walk into a restaurant, church, park, Publix and you see people you know and they know your name. But we're not resting on this. We want to be exceptional, world-class. The question is: How do we maintain that image and build on it? We have to have quality services and maintain our identity while responding to growth in our area.
Question: What are your goals for city employees? 
Stavres: How do we keep them ever-evolving in terms of their growth and their innovation? We have a great innovation rewards program if they see a better way to save money, improve a service, reduce a cost. We make sure they see the value in being a constant learning organization. It is important for us to be better tomorrow than we are today. We get that way by investing in ourselves, our employees, by giving them opportunities to develop new skills and exposing them to new ideas and concepts. 
Question: How has growth affected the city of Winter Haven? 
Stavres: It's still occurring. As long as it's done well and you do not lose your identity in the process, it is not a bad thing. A lot of times that identity is what brought the growth here. Don't forsake your values and principles of what makes the place special in the process of responding to the growth.  
Question: What will you do to help improve economic development in Polk County?
Stavres: Collaborating with those who are directly involved in economic development endeavors is critical, and being attentive to their needs and understanding their challenges and helping bring investment to our community is important. Bruce Lyon and his team (Winter Haven Economic Development Council) have made a significant impact on this community. Helping them and the CFDC achieve the outcomes from the seat I'm in, trying to remove roadblocks and being open to innovative approaches that may seem unusual or unorthodox but have a significant impact on the community, are important. They all hinge entirely on relationships, cooperation and collaboration.
Question: What was the most important thing you learned from your predecessor, Mike Herr? (Herr left Winter Haven to become city manager of Bartow in January 2023.)
Stavres: He taught me the definition of urgency and relentlessness. His drive, his energy level and attention to detail, I've never had the pleasure of working with someone who had such drive and intensity. I try to mirror that in my own way. I also learned from him:
The strength you have comes from the team. Build a great one and take the time to tend to its health and growth. Surround yourself with strong people.
Take the time to fully understand the issue. Don't guess and don't let those around you guess either. Know the facts. Don't make assumptions. Spend the time doing the homework. 
Question: What was the best advice he gave you?
Stavres: One time he said: Be prepared. When you walk out of a meeting where you got the hard question and you were able to answer it, you were prepared. You've got to play offense. Don't wait for an issue to come up; be prepared for it. 
Question: What was the highlight from your tenure as deputy city manager?
Stavres: The AdventHealth Fieldhouse & Conference Center is "the" thing. Guiding that project through design and construction, then getting it opened and the team in place to operate it – from a tangible standpoint it had a great impact on the economy. I'm personally proud of working through Mike's transition, when I was interim and he came on board and getting on the same page right off the bat. It was very fun, very frustrating at times. There is a certain level of reward and satisfaction knowing you were able to be helpful in those situations. 
Question: What keeps you in Polk County?
Stavres: It's a pretty unique and special place with some amazing people. There's tremendous opportunity to be involved in a multitude of things and to have an influence on the county as a whole. Polk County is still a very familiar community, where people know each other. Even as fast as we're growing, there's still this local relationship aspect that you don't see in a lot of places. That gives you a great ability to collaborate and cooperate and accomplish some things.