Go back to

Blog

page.
Polk County Hospitals Continue to Grow
As Polk County continues to grow, having adequate health care for our 725,000+ residents is critical to attracting and retaining businesses. Five hospitals are located in the county, along with numerous large health care providers like Central Florida Health Care and clinics like Watson and Bond. But they aren't resting on their laurels.
Following are summaries of the growth of our hospitals and their main areas of focus.
Lakeland Regional Health
The county's second-largest private employer continues to grow. Lakeland Regional Health (LRH) announced in June 2021 that it will be building an ambulatory care site at Kathleen Road and Interstate 4 to better serve local residents. The targeted opening date is 2023.
"When people are looking for a place to raise their family, having access to comprehensive, high-quality health care locally is high on the list of what draws people to a certain area," said LRH President & CEO Danielle Drummond. "Our growing health care footprint over the past years has brought new providers and service lines to our area, expanding care in pediatrics, bariatrics, nephrology, and cardiovascular care, with additional services expected in the future, including our Center for Behavioral Health & Wellness, which opens in 2022."
Lakeland Regional Health Medical Center opened in 1916 with 65 beds and 24 employees. Now, LRH employs more than 5,400 people full and part-time. Its medical staff includes more than 550 people and its physicians practice in more than 30 specialties.
"As the safety net, 864-bed hospital for Polk County, we recognize that our community looks to us as the provider of essential health care services for both adults and children," Drummond said. "Having a comprehensive Emergency Department and dedicated Children's Emergency Department, as well as Polk County's only Level II Trauma Center and only Level III NICU, provides the people of our community with expert care close to where they live and work."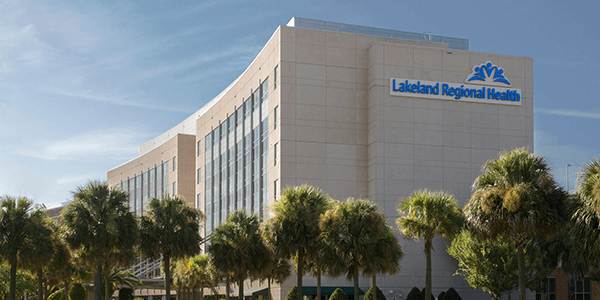 LRH offers an Advanced Comprehensive Stroke Center and a Chest Pain Center, along with a women and children's pavilion, a cancer center and more. In 2020, it had 165,278 Emergency Department visits, making it one of the busiest in the country.
"Our entire team and medical staff are the heart of our medical center. They are the experts, leaders and innovators who, coupled with our state-of-the-art facilities and technology, save lives every day and provide hope and healing to the people of Lakeland and the surrounding communities," Drummond said. "The exceptional work they successfully provided over the last 18 months is a testament to their knowledge, expertise and abilities and clearly shows their heart for caring for patients."
During Covid, learning to adapt quickly and safely in an ever-changing environment was the most important lesson, Drummond said. "It wasn't easy, but the experience built strength and resilience in our team and compelled all of us to innovate and stretch ourselves for the health and safety of our patients. Additionally, we learned more about the value of being part of a caring community. The overwhelming support and encouragement we received was so appreciated, and in turn, we were pleased to be able to support our local businesses, schools and organizations so together our community could safely respond to the crisis."
Drummond said the future holds many opportunities for LRH. "Our five-year Strategic Plan clearly details where we see ourselves by 2025, laying the groundwork for a promising and sustainable future.
For our Team: We will prioritize the safety and well-being of our team members so they can continue to grow professionally and to care for themselves, our patients and families and the community.
For our Community: We will continue our role as health care leaders in the community through providing advanced technologies, innovative programs and comprehensive services delivered by a strong and robust team of physicians, clinicians and care professionals."
Advent Health Care Network
One of the nation's largest faith-based health care systems with nearly 50 hospitals and hundreds of care sites in multiple states, AdventHealth bought two Polk County hospitals in 2019. They now own hospitals that received:
National Accreditation Program for Breast Centers (NAPBC).

Metabolic and Bariatric Surgery Accreditation.

Quality Improvement Program (MBSAQIP).
"AdventHealth Heart of Florida and AdventHealth Lake Wales both offer the residents of Polk County and surrounding communities access to world-class hospitals with compassionate medical teams who are dedicated to our patient's whole-person health," said Brian Adams, CEO of AdventHealth's Polk County market.
"From expert emergency and surgical services to leading specialists in cardiology, orthopedics, urology and gastroenterology, we offer the quality care patients need, close to home."
The hospitals are proud to be in the county. "AdventHealth is proud to be a part of Polk County and to partner with local businesses and cities. We are excited to partner with both LEGOLAND Florida Resort and Bok Tower Gardens," she said. "AdventHealth Heart of Florida recently donated three acres of land on its campus to Haines City to build a new fire station that will help to serve the residents in the quickly growing area along U.S. Highway 27."
Heart of Florida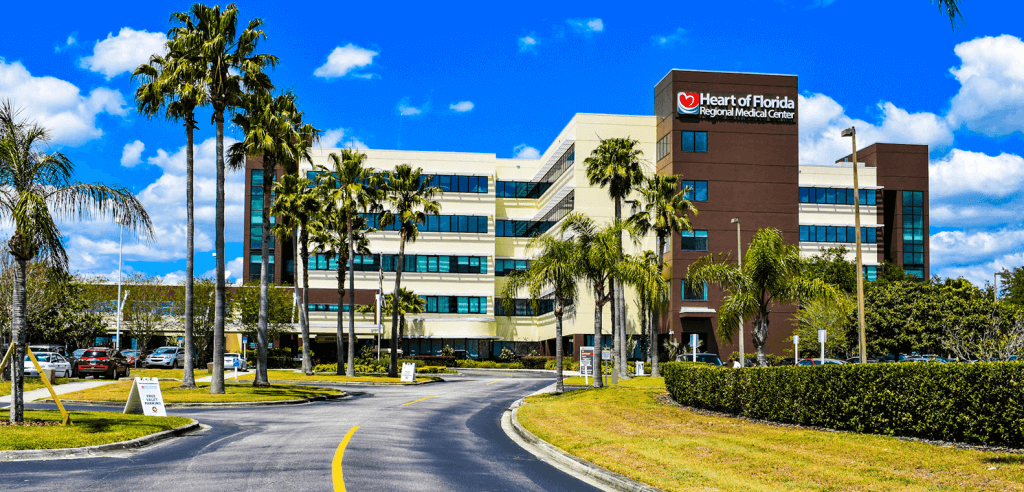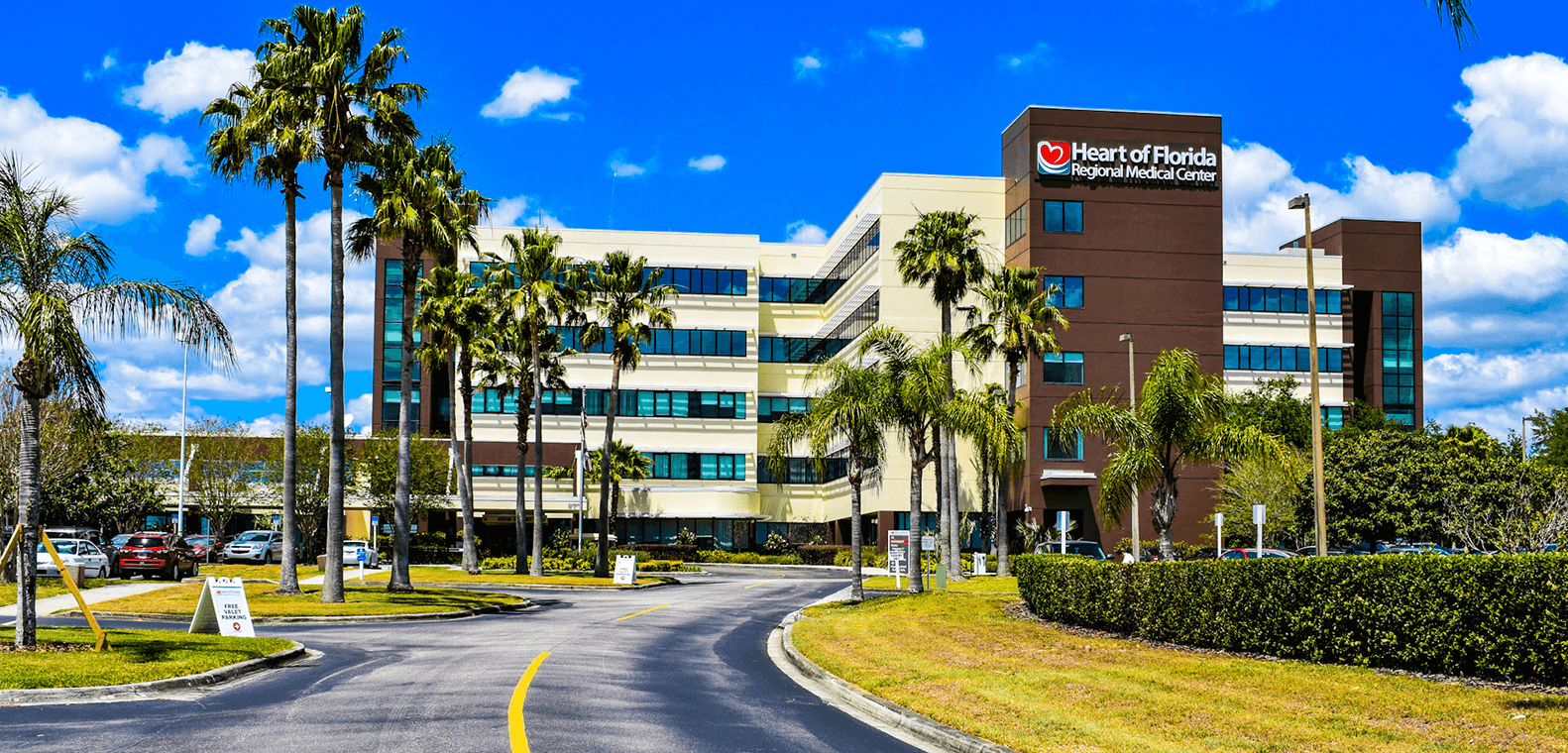 Heart of Florida has been operating in Haines City and Davenport since the 1960s. It moved to its current location on 60 acres in Davenport in 1997.
By 2004, the hospital expanded, adding a medical office building, cardiac catheterization lab, upgraded imaging services and doubled capacity in the emergency room.
In 2005 and 2006, Heart of Florida expanded its cardiac and imaging services and opened Urgent Care Cypress (now AdventHealth Centra Care Winter Haven).
In 2007, it started expanding again, adding the fourth and fifth floors, which now house surgical units, the Joint & Spine Center and women's unit.
From 2013 to 2019, the hospital added interventional radiology and cardiac electrophysiology, an upgraded MRI, an urgent care in Poinciana and an emergency room in Four Corners.
In September 2019, Heart of Florida Medical Center joined AdventHealth and was renamed AdventHealth Heart of Florida. A year later, it added nine beds, bringing its total to a 202-bed acute care facility.
Lake Wales
Two people opened Lake Wales' first hospital in 1928 with nine beds. AdventHealth Lake Wales is now a 160-bed acute care facility. In between, it grew:
In 1929, residents and business leaders of Lake Wales raised money to build a 25-bed hospital. Rooms were added in 1948 and 1956, bringing the total to 60 beds.

In 1965, a 110-bed addition was built adjacent to the original hospital. Nine years later, the hospital opened the third floor, bringing the total number of beds to 154, and converted the original hospital into medical office space.

In 1985, a 120-bed Extended Care Facility building — named the Deeley A. Hunt Building — was added next to the hospital.

In September 2019, AdventHealth bought Lake Wales Medical Center and renamed it AdventHealth Lake Wales.
Bay Care
BayCare, which operates Winter Haven Hospital, Winter Haven's Women's Hospital and Bartow Regional Medical Center, provides an annual economic impact of nearly $800 million in Polk County, according to a 2020 study. The two Winter Haven hospitals support more than 4,000 jobs.
The non-profit health care system offers a wide range of services. Its website says its mission "is to improve the health of all we serve through community-owned, health care services that set the standard for high-quality, compassionate care."
In the last five years, BayCare has invested more than $100 million to renovate the Emergency Department and build the Bostick Heart Center and Critical Care Units at Winter Haven Hospital. It also constructed an academic training facility/clinic for the hospital's new physician residency program and invested in new medical technology.
It also has invested about $15 million into Bartow Regional Medical Center, which it purchased in January 2016, to renovate a cardiac catheterization lab and upgrade or purchase a CT scanner, X-ray system, hyperbaric chambers and more.