Go back to

Blog

page.
CFDC Quarterly Leadership Roundtable: Leading High Performing Teams
As we shared in our last CFDC quarterly Leadership Roundtable, the future for business is looking brighter – throughout the country and especially here in Polk County, Florida. The past two years have been ones of great transition and adjustment, but local leaders are optimistic about business conditions, enthusiastic about new opportunities and forecasting continued economic and business growth.
This quarter we are turning our attention to the topic of leading high-performing teams. I spoke with Mike Herr, City Manager, City of Winter Haven; Dr. Melody Rider, Lakeland Campus President, Keiser University; and Pete Frantzis, Director of Business Development, Cyndeo Wealth Partners about how they are building bench strength, investing in their teams, and planning for the next generation of leadership.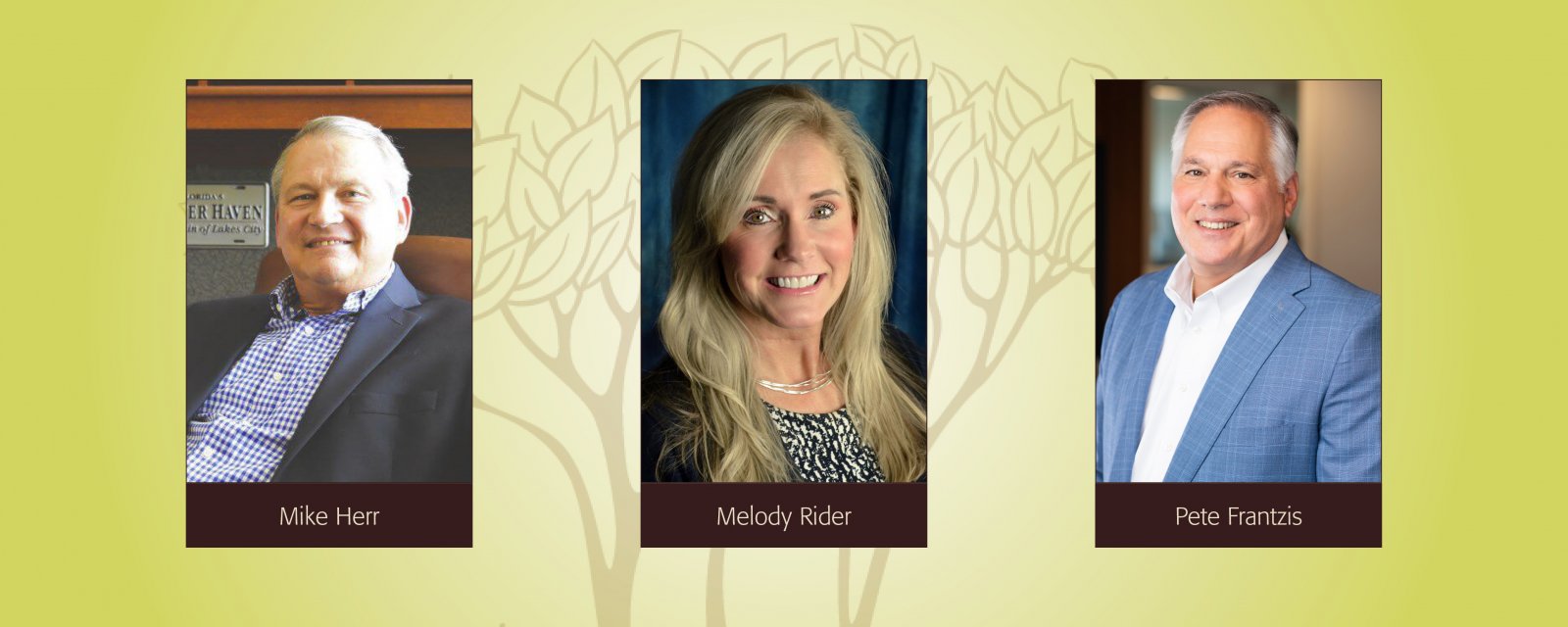 As Polk County's economy and businesses continue to grow at a significant pace, leaders and their teams are being challenged to grow and scale their capacity to lead with excellence while achieving more. In what ways are you ensuring your leadership team is prepared to perform at its highest and best as expectations continue to rise?
Mike
We invest heavily in leadership development. We have developed an alliance with Polk State College and annually identify candidates for a Leadership Team Development Program facilitated by the college. We also provide tuition reimbursement for team members seeking a Bachelor of Science or Master's degree. One of our goals is to make sure that we have a diverse and inclusive leadership team. We strive to practice those values every day and to ensure our commitment, we have created a dedicated position charged with leading our diversity and inclusivity efforts. Our Director of Diversity works internally among our staff and externally in our community to help us identify and evaluate talent within the organization as well as talent that we may need to bring in from the outside. Another training and development focus is our investment in the courses required for team members to become Certified Public Managers (CPM). We identify high potential team members and enroll them in the graduate level courses required to attain CPM certification. We believe that these types of opportunities broaden the horizons of our team, develop critical thinking skills, encourage process analysis, and create better system thinkers. In a public sector organization, these skills are crucial. In addition to educational and training opportunities, we have developed a new initiative called the Innovation Fund. The Innovation Fund is designed to reward employees, either as an individual or a team, who submit a best practice – a tool or method or procedure or technique – that produces exceptional results that benefit the customer. A winning best practice can't benefit the bureaucracy, it's got to benefit the customer in a meaningful way.
Dr. Rider
Performance starts with a culture of continual improvement. The culture starts with me, and I spend a lot of time developing a trickle-down effect with my leaders. The core value of continual improvement must be understood and ingrained in all employees. My leadership team sets the expectation for performance at the time of onboarding and is constantly reinforcing the importance of continual improvement. By rewarding innovation and process improvement, we offer support and encouragement for living out the organizational value of continual improvement. We work hard to make sure that team members at all levels in the organization see the big picture and understand why their contribution matters. We encourage our team members to understand their role, their impact, and their responsibility. By continually looking at things in a way to improve them, we avoid the status quo. By challenging the "way we've always done it", we create an environment that is motivating and inspiring.
Pete
We have always invested in our team – whether it's training, performance bonuses, or getting them the right tools to serve our clients. A lot of our professional development happens one-on-one as more senior folks encourage, train, and coach our newer team members. Because we are such a new company, we've had to cross pollinate the firm with each other's skills. We take pride in the fact that all our client facing team members have the title of relationship manager or senior relationship manager. We believe that everyone who serves our customers is helping us manage that relationship – no matter what role they have in the process. We're taking action to make sure we, as a team and an organization, are giving everybody an opportunity to be a part of a successful company and give them the opportunity to go out and achieve with no ceiling above their head, the sky's the limit.
As we look to the future of Polk, change will be constant and the need to adapt to a rapidly evolving environment will become magnified. To keep up with the pace of change and thrive, leadership teams must possess the ability to encourage productive debate, align around a common vision for an emerging future, and facilitate collaboration. Describe the ways in which you encourage and cultivate these qualities in your leadership team.
Mike
About 5 years ago, the City of Winter Haven embarked upon a strategic planning journey. The most important outcome of that effort was a new mission statement for our city government. Fundamental to the mission was a vision statement and a list of core values. To support our core values and help us realize our vision, we formed key result teams. Key result teams have been instrumental in recommending action plans that support our mission. One of these action plans was the creation of a formalized onboarding program. This program provides new employees with an opportunity to meet with the city manager, deputy city manager, and department heads to provide a forum for the leadership team to talk about our culture, to set the tone for what type of organization we are, and layout our vision for what we want the organization to be in the future.
Our weekly leadership team meetings encourage productive debate. We don't let issues get very stale before we talk through them and develop an appropriate response. An example of collaboration is the creation of the One Water initiative. One Water is an integrated approach to a green infrastructure and sustainable water management. Instead of working through departmental silos, One Water uses a team approach and is a unified effort involving utilities, natural resources, and many other stakeholders. Our philosophy on One Water is to restore, reclaim, recharge and reuse — which is a very progressive concept in local government and in Polk County.
Dr. Rider
One of the things that really excited me about being a Campus President is getting synergy right. Synergy is the product of collaboration, productive debate, and ultimately thoughtful compromise. I have very strong leaders who are very passionate about their department and what they want to achieve. Frequently, I'll identify a problem and then spend time outlining potential issues and designing probing questions before I go into a management meeting. I don't always have an answer in mind. My goal is to provide an environment for healthy debate that leads to innovative solutions. The best solutions require collaboration and even a little bit of sacrifice from each stakeholder to meet the greater needs of the organization and I see myself as the facilitator for this process.
Pete
The world we work in is one of rapidly evolving environmental changes. There are many issues that we're all going through from a social and organizational culture perspective. We are trying to be very purposeful about how we go about diversifying our team members and empowering all of them to be successful. Our clients are changing, and we need to change to meet their needs.
As Boomers continue to exit the labor force and vacate senior leadership positions, what are you doing to grow your talent pipeline and ensure your leadership bench is ready to step up and fulfill your organization's future potential?
Mike
The first thing we're doing to strengthen our talent pipeline is asking that each department head work closely with our HR team to develop a formal succession plan. When I started at the City of Winter Haven 5 years ago, I realized quickly that we didn't have a lot of depth on our team. When you don't have a lot of depth, things that should be caught can slip through the cracks and people get burned out. I've put a lot of effort into ensuring that we have key players ready to fill critical roles throughout the organization. We must have the bench strength to carry on with operations when, not if, we are faced with a key vacancy.
Dr. Rider
The events of 2021 taught us the importance of succession planning. We had impacts not only from baby boomer retirement but also from the pandemic. We were not fully prepared for veteran employees to tell us they were not returning to work due to personal impacts from COVID or to take advantage of new opportunities created in the post-pandemic economy. I've become passionate about ensuring bench strength and deliberate succession planning. I always tell my leadership team, if we have to recruit or conduct a talent search for a leadership role, we have failed our people. Often leadership teams just think of the top line positions – CEO, CFO, COO, etc.- in terms of development and succession. We think about a football team and how many players it takes to win a game. Not everyone is scoring touchdowns- someone is blocking, someone is kicking an extra point, and someone is filling the water bottles. In our world, at every point in the process, there is a team member that is critical to the success of the organization. Part of a continual improvement culture is constantly identifying, mentoring, and improving high potential employees throughout the organization to prepare them for the next level.
Pete
We started our firm knowing the importance of a well-developed succession plan and bench strength. We want our team to have a strong sense of ownership, no matter what their title or level of experience is, and accountability for their own success as well as the company's success. Our partners range in age from early-thirties to late-fifties so we have a broad spectrum of experience and lots of room for leadership growth. It has been amazing to see how the firm has flourished because it was built with the right people and a lot of appreciation for each other. We've laid the foundation for success for many years to come.
As your leadership team achieves key milestones and wins, in what ways are you acknowledging key contributions, celebrating wins, and keeping your team engaged and motivated.
Mike
My quest is to make sure that we do enough to celebrate the achievements of our teams. I frequently remind myself that even when I think I've done enough to recognize the contributions of the team, there are still opportunities to help someone shine. Our goal is to always catch somebody doing something positive every day and tell them about it. We'll keep defeats in the locker room, but we want to celebrate wins publicly. When you celebrate wins publicly, the citizens catch on. Our citizens want to celebrate the good things happening in their own neighborhoods and we actively seek opportunities to help them do just that.
Dr. Rider
Providing adequate and timely recognition for employees is something I've always challenged myself to improve on. Everyone needs and deserves to have their hard work recognized and appreciated. To make sure I'm creating an environment that celebrates wins, I ask myself two questions – 1. Are we rewarding what we want to recreate? And 2. Are we rewarding the right things? Leaders must establish benchmarks and metrics that align with our culture of continual improvement, and we must acknowledge and reward results that support this culture.
Pete
We are a financial company, and we believe strongly in the power of financial rewards. We give our team very manageable and attainable bonus plans. We set expectations for success, we provide metrics for what defines success, and we do everything we can to help our team achieve success. Prior to launching our firm, we made the team a promise that when hit certain asset levels everyone would receive significant cash rewards. Sixty days into our new venture, we hit that target and we started handing out checks. That was life changing for people on our team. Our philosophy has always been, if you do right by people and you think with your mind and your heart and not with your pockets, it's amazing how much can be accomplished.
Emily Rogers, Founder & CEO of Emily Rogers Consulting + Coaching, is an executive coach, business consultant, and retreat facilitator. She strategically advises and supports individuals and organizations in growing and realizing their full potential in purposeful and balanced ways. You can connect with her at emilyrogers.com.