Go back to

Blog

page.
Southern Glazer's, FHS Win CFDC's Top Awards; Superintendent Receives Chairman's Award
Southern Glazer's Wine & Spirits, FHS and Polk Public Schools Superintendent Jacqueline Byrd walked away with top honors at the Central Florida Development Council's annual meeting on October 15.
Southern Glazer's won the George W. Harris Jr. Economic Development Award for Success in Large Business. The award, given to companies with at least 100 employees, was named for George Harris, a former CFDC chairman and president of Citrus & Chemical Bank.
FHS won the Jim Brantley Economic Development Award for Success in Small Business for companies with fewer than 100 employees. The award was renamed last year after Brantley, the first director of the agency that has since been renamed the Central Florida Development Council.
Both awards honor businesses based on community service, commitment to growth in business, economic stability and promotion of free enterprise.
"We are fortunate to have so many high-quality companies nominated this year and Southern Glazer's and FHS represent growing companies in our area. Both award winners are deeply committed to helping Polk Prosper. In fact, all of our award finalists this year are," said Sean Malott, President & CEO of the CFDC. "The awardees are selected by investor members and well-deserving companies received awards this year."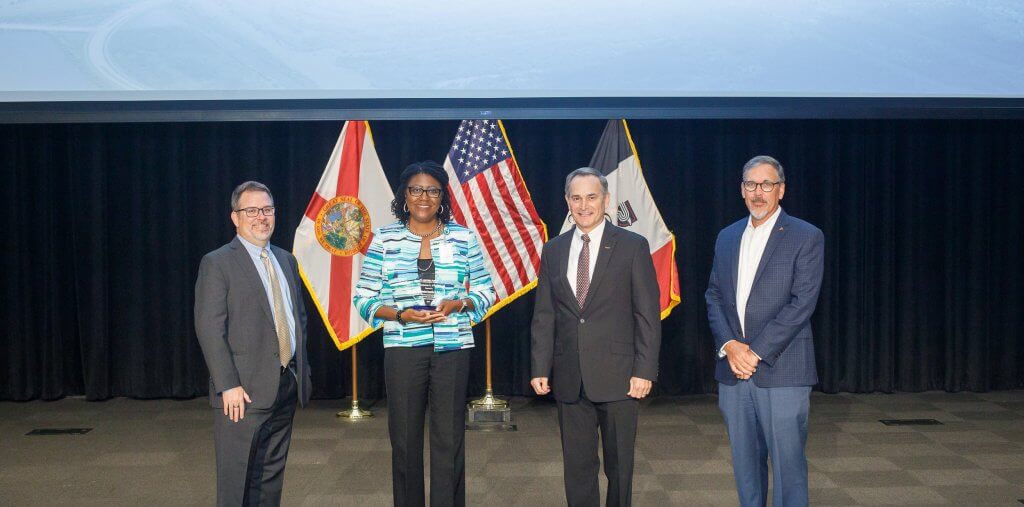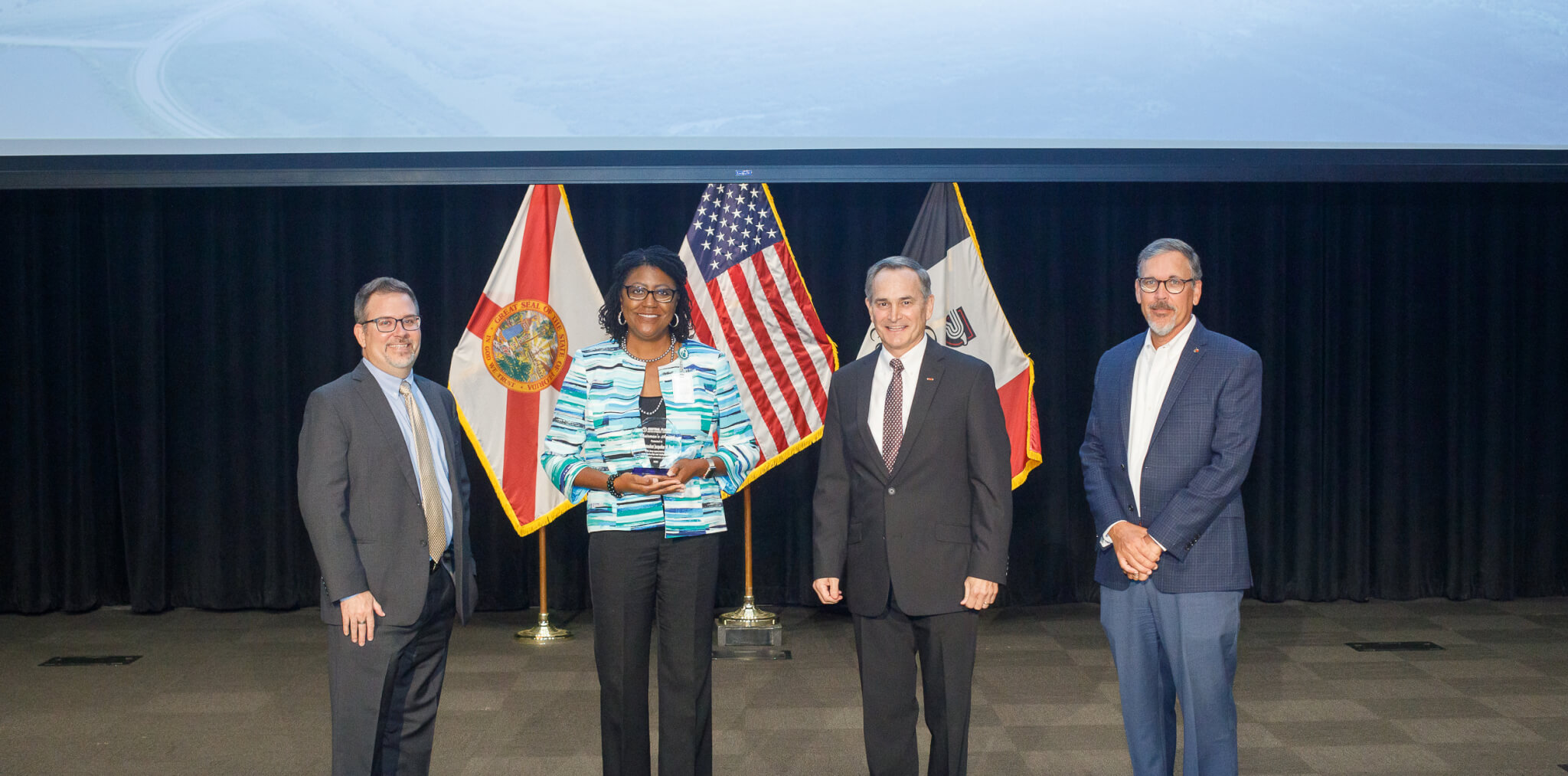 Byrd, who is retiring as superintendent in June, was presented with the Chairman's Award, sponsored by Citizens Bank & Trust and a great honor to last year's winner, Greg Littleton.
Outgoing Chair Jake Polumbo said Byrd's work is "improving the economic prosperity of Polk County," citing increasing the graduation rate to an unprecedented 81%, improving the district's grade and gaining district accreditation, among others. That's been achieved by things like teaching students to be "self-directed in setting priorities and choosing ethical actions."
"This happens because of great leadership and dedication," Polumbo said, recognizing Byrd for her "role as a key and essential person in our School District. … Since her appointment, she worked closely with the School Board and administration to successfully institute a strategic plan to raise academic achievement."
"I'm deeply honored to have received the Central Florida Development Council's Chairman's Award," Byrd said. "Together, the school district and CFDC strive every day to both prepare students for their future careers and build a workforce that will attract employers to our area. Both organizations have the same vision for Polk County's future: prosperity and opportunity. It has been my pleasure to work closely with the CFDC during my time as superintendent."
Byrd came to Polk County from Duval County in 2013 and became superintendent in 2016. An educator at all levels for 30 years, Byrd said if it weren't for the coronavirus, "you would have seen the graduation rate go up again, we are close to an A district. But it's not my work; it's the work of teachers, students and the team. I'm just their biggest cheerleader."
The challenge now, she said, is to continue to cheer to push Polk County to the forefront to "show our students they are an A school district. They are the best of the best."
Angela Garcia Falconetti, president of Polk State College, became chair of the CFDC's board of directors, following Polumbo. Her vision for the next year is clear: "To reach economic recovery and to ensure Polk Prospers, together."
"The development of a holistic vision will naturally lead to the design and delivery of game-changing initiatives — that what we're about at the CFDC," Falconetti said. "Our innovative work has been laid out for us as we continue to respond to COVID-19 and shift our focus to recovery.
"However, we must go above and beyond the challenges presented by the pandemic to propel the economic development of our region forward. We must continue to capitalize on our geographic location, strong infrastructure, the diversity of our industries and the quality of our education and workforce pipeline. We must remain focused, synchronized and unified in our efforts because, as we say at Polk State College — and foster — We are Polk, We are the Solution, and together, we are better."
She noted three successes from 2020:
The county's health care system, which dealt with COVID-19 at every level. More physicians have come to the regions, facilities have expanded, and more. In addition, the recently completed Community Health Assessment outlines what the county needs to do to continue to improve the health of our residents.
The advanced manufacturing and technology sectors, which helped produce tools and research new technologies during the pandemic. They are poised to continue to grow.
The CFDC's strategic plan, which contains objectives to promote Polk County "as Florida's best place for businesses," advocate for business issues, facilitate collaborative partnerships and advance strategic initiatives — all to ensure we prosper as the county is projected to grow to 900,000 people by 2030.
Southern Glazer's Wine and Spirits
Founded in 1968 in Miami, Southern Wine and Spirits was the single largest distributor of wine, spirits, beer and non-alcoholic beverages in the United States before it merged with Glazer's, which was founded in the early 1900s. The combined company now distributes in 44 states, Washington, D.C., Canada and the Caribbean.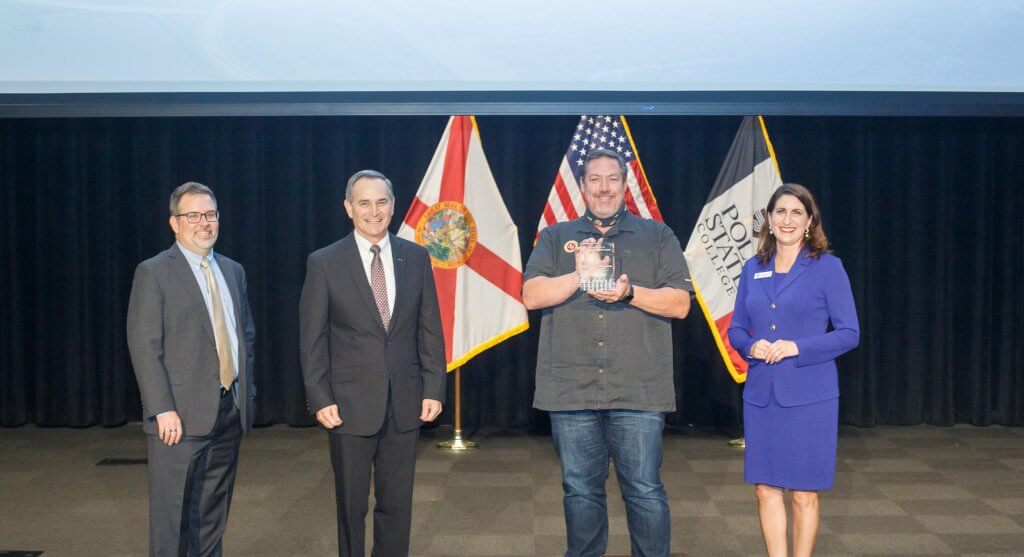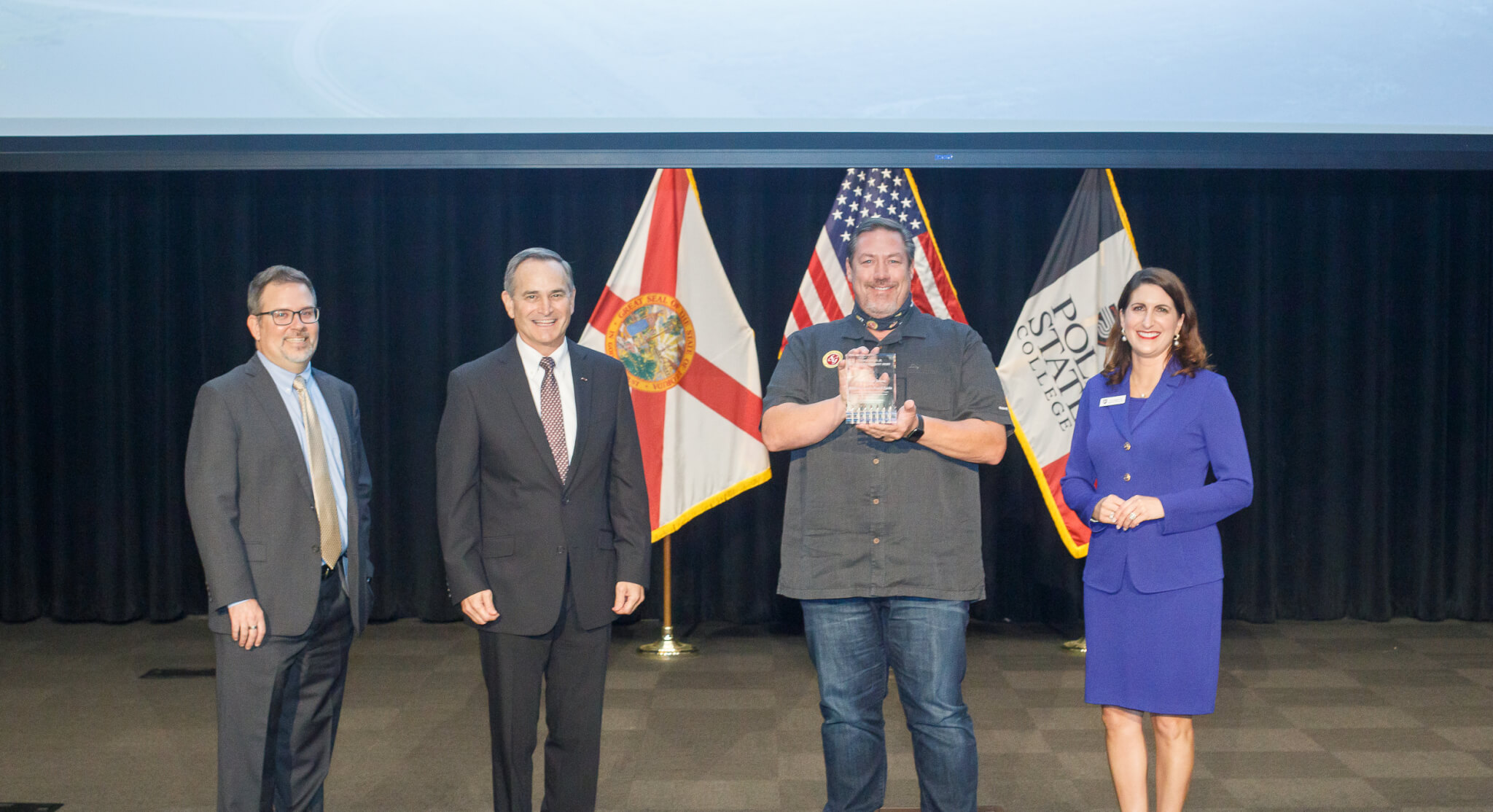 More than 400 people work at the company's distribution center on Old Tampa Highway in Lakeland. One of the tallest and largest distribution centers in Polk County, it ships more than 20 million cases a year.
Vice president of operations for the Southeast region Jason Witty thanked the CFDC for the award and said until the Lakeland expansion, the company served the entire state with one facility.
"Now, if customers in Pensacola or Key West ordered today by 3:30 p.m. we could have it in those geographies by 5 a.m. tomorrow. We are proud to have a positive culture and amazing workforce here in Central Florida."
Other finalists were Duke Energy, E.R. Jahna Industries and Southeastern University.
FHS
Lifelong friends Todd Wall and Joe DiCesare started Florida Handling Systems in 1994, building on their experiences in material handling. Focusing on overhead cranes, hoist systems, riggings, fall protection, inspections and more, the company became the premier bridge crane and racking company in the Southeast within five years.
As the company continued to grow, Wall and DiCesare renamed it to FHS in 2006. In 2010, they added a conveyor and rack division.
"I know all the other businesses that were up for election, and we're honored to be picked No. 1," said DiCesare, a Lakeland native. "Mr. Polumbo mentioned that people are the key … with great people, 96 people … we continue to grow."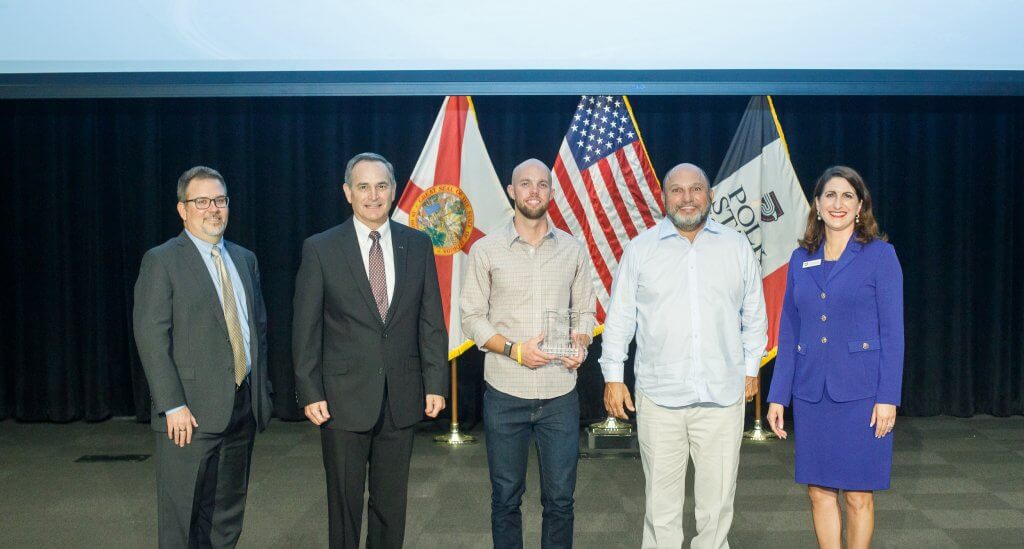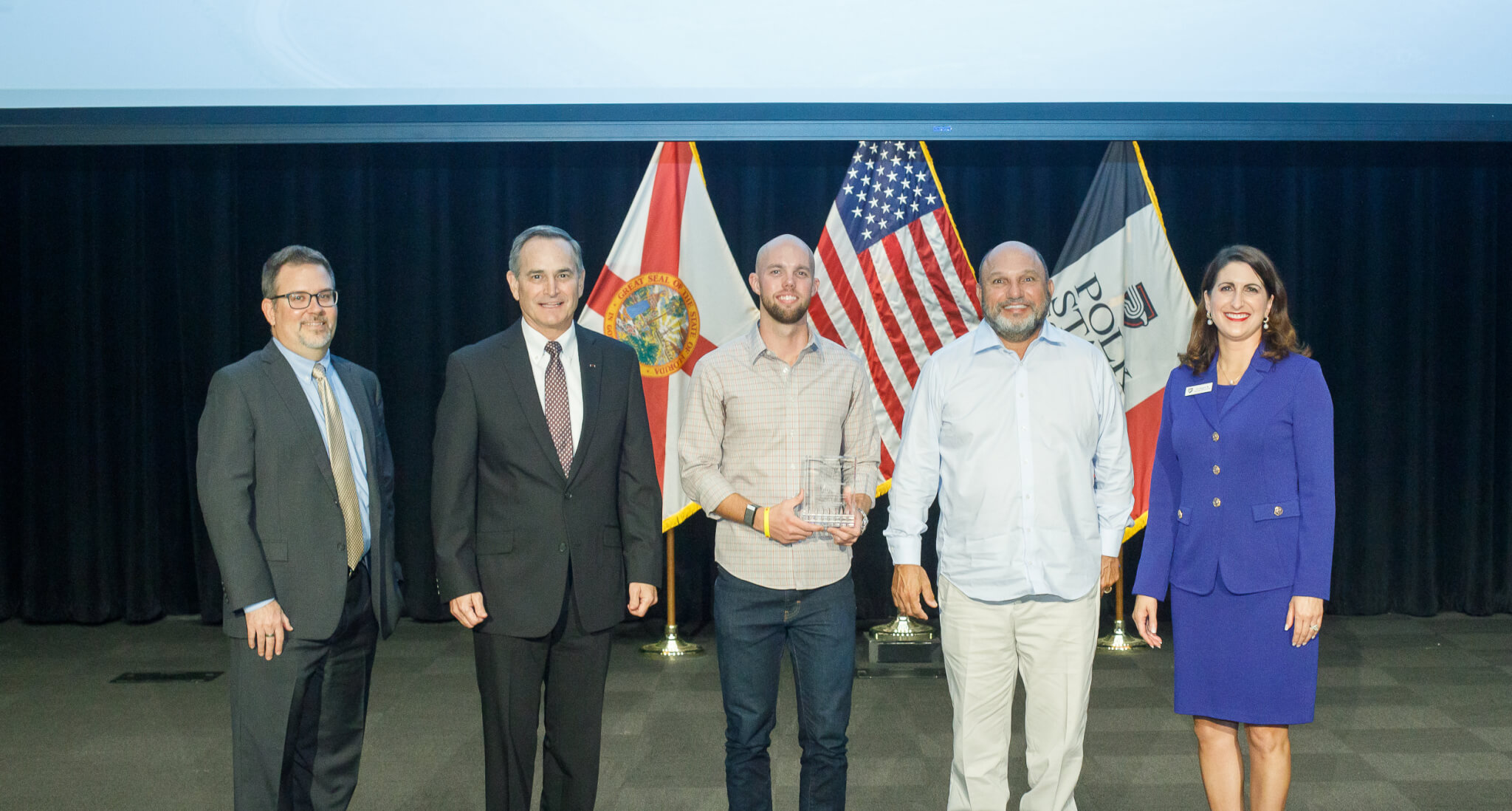 Sales Engineer Connor Regan thanked all the investors and said he's looking forward to kicking off 2021 strong.
The leading material handling distributor in the Southeast, FHS hires and trains highly skilled local talent, everyone from service technicians and sales professionals to engineers. Its team of experts works with clients to solve problems quickly, ensuring quality work and pleased customers.
The company has received the gold, silver and bronze awards in safety from Mosaic.
Its 96 employees give back to the community in a variety of ways, volunteering in organizations such as the Rotary Club, Masonic Lodge and Elks Club and helping collect food for the homeless.
Other finalists were Ben Hill Griffin Inc., Southern Homes and Straughn Trout Architects.
Sponsors
The annual meeting was held in person for a limited number of people, and also live-streamed. It was sponsored by Ben Hill Griffin Inc., Duke Energy, Florida Polytechnic University, Polk State College, Southeastern University, TECO and Citizen's Bank & Trust. The Polk County Farm Bureau sponsored also participated as a meeting.
Watch the 2020 Annual Meeting online here.
View more photos of the 2020 Annual Meeting here.